Draught Beer Cooler

under construction
First draft of cooler finished in May of 1992. Basic design of a box with dimensions 8feet long, 4 feet deep and 6 feet tall. Redwood, plywood, plastic insulation and stainless 16 gauge sheets. Box cooled with condensor unit approximately 1 ton. Originally overdesigned for 4 kegs and actually able to fit in 9 easily.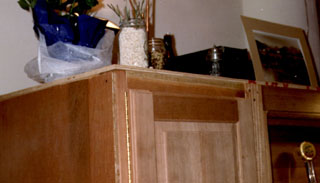 Note: This door has the old hinges that were abandoned for a better hinge from a marine supply outfit in San Rafael.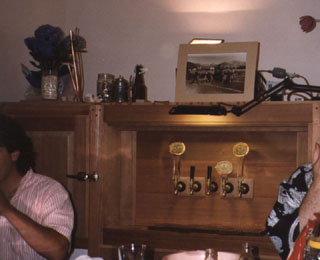 Second major revision of doors, hinges, and additional taps. Spar varnish redwood. Increase for maximum numbers of kegs. Shelving on top shelves for bottles orignally.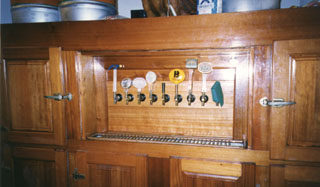 Third revision: New door design which is reinforced with plywood. Shorten height, shorten depth and close in sides for shelving.Wheels on cooler to allow it to be moved out of the loft. Place shelving in sides for brewing equipment and cooking stuff. Still can fit 5 kegs inside or several sankeys and many more soda kegs.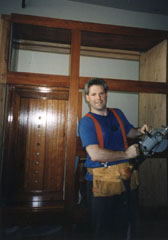 New revisions: New drain system made of stainless and insulated against the old galvanized drain. New drain pan completely flat for placing glasses on made out of stainless. New drain reservoir built into cooler to collect condensation from the condenser and collect beer drain stuff.
No picture available. I'll get the site updated soon.
For those interested in the original printed plots from Autocad, I put them in Adobe Acrobat.
Old drawings
If you dont have Acrobat 3.0, click here.

.