Ottawa

BY

Ken Koupal

Ottawa

For Christmas I bought The Valley Mill grain mill, after reading about it in Home Brewer's Digest and Brewing Techniques. Overall, I'm pleased with the results, but I'd make some changes. First, I'd motorize the mill. Then, I'd change the internal feed to cover two exposed edges that trap a small amount of grain near the rollers. Then, I'd secure the top feeder chute better, or replace it altogether with a more rigid design. The plastic walls build up static electricity which adheres grain dust, so a more conductive material would have been better, either that or I'll have to attach a ground wire. But there are loads of other features which I wouldn't change at all, such as roller dimensions, adjustment mechanism, hopper size, throughput, and it works a whole lot better than anything else I tried on the market in the same price range. I intended to write Valley Brewing Equipment to tell them of my assessment, but they were way up in Canada, eh. I put the idea off, figuring that they already knew what I wanted to tell them.

What luck! I had a business trip to Ottawa in May. In my spare time I could just swing by the Valley Brewing Equipment factory, meet the manufacturing crew, and let the design staff know my thoughts in person.

While Oklahoma was getting hit by tornadoes, it was an unseasonable hot spell in Ottawa. The entire city seemed to be out on the streets enjoying the sun. Shorts, skirts, sandals, sunglasses -- it looked like any day on the boardwalk in Southern California! I bought a city map and headed off to 1310 Surrey Avenue. To my surprise, this was a residential neighborhood. I stopped in front of an ordinary one-story white house, partially surrounded by shrubbery to make a small, secluded yard. I walked toward the door and a small Yorkie on a leash jubilantly pranced up to greet me. A woman opened the screen door to inquire my business. She was surprised and delighted when I asked about the grain mill. "Just a moment, I'll get my son. You'll want to talk with him." The Yorkie's name was Sam, so Sam and I waited in the sunny garden.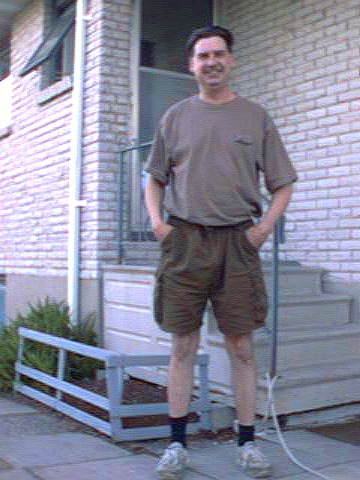 A young man enthusiastically descended the front steps and extended his hand; a broad smile on his face. "Hi, I'm Randy." We talked about the grain mill, and he agreed with everything I said. I talked about motorizing the mill, but attaching it to some sort of table that I could put a bucket under to catch the grain. "Wait until you see the design a fellow sent me from Norway." He disappeared inside and shortly produced a picture of an Ikea chair converted into a grain mill stand. Terrific idea, if you have a spare chair or can pick up one at a garage sale.
http://home.sol.no/~knfinsta/page03.htm
I asked about the rollers. Originally they were stainless steel, but the knurling tools kept breaking because stainless steel is so hard, and the knurls were too shallow. Now the rollers are made at a machine shop about 40 miles away where they are aggressively knurled and nickel plated. His sister helps with the assembly and his mother answers the phone. Very much a family operation. Many of his orders come from California and Colorado, but never before had a customer actually visited his "assembly plant".
Randy doesn't brew, but he has lots of friends who do. Homebrewing supplies can be bought around town but they are expensive. It's best to go to Toronto to buy supplies in bulk. For local beer, Randy recommended going down to the Clock Tower on Bank Street in the Glebe District.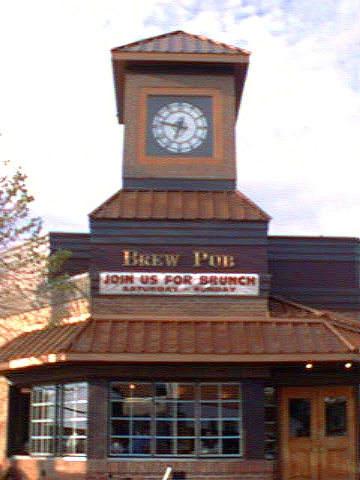 The Clock Tower Brew Pub was packed with students and businesspeople. The patio was full and highly animated with French Canadian dialog. I went inside to a darkened, air conditioned room with a view of the brewery. Canadian folk rock set the mood. It was a classic British pub, decorated with wood kegs draped from the ceiling, beer bottles circling the room, springy wooden floors, and full grain sacks piled against the wall. The grain sacks read Crushed Carastan Malt from Bairds Malting, Crushed Wheat from Canadian Malting Co. Ltd., 2-Row from Grain Pro. On tap were Kolsch, Fenian Red, Elephant Pale Ale, and Cask Conditioned Fenian Red. I had the cask conditioned ale, which was very much like a red IPA with a faint sweetness.
Behind the glass wall was the brewery. The boil kettle was lined with iron-red brick on the outside and had a massive copper vent hood above. Upon looking closer, the boil room was dripping with condensation, evidence of recent use. Through the window I could see hop sacks labeled 1998 Cascade 7.4 alpha. The fermentation room had four open-top vats, each lined on the outside with beaded oak strips.
On the menu were typical pub offerings: Bangers & Mash, Shepherd's Pie, Liver & Onions, Red Ale Steak, Chicken wings and fries (with gravy) in a basket. I had the Chicken Pot Pie and enjoyed it immensely.
The sun set about 8:30. Tiny lights illuminated the trees on the patio. I had a Kolsch and a dessert, then went for a walk, just like the rest of the people in Ottawa on a warm summery night. After walking for many kilometers, I ended up at Ottawa's night life district known as the ByWard Market. I finished the evening with an Irish ale at the popular and crowded Heart and Crown Pub.